Vikings
A Warrior and his Wolves
As part of a free photo shoot with subsequent compositing on the theme of "Vikings", the boxquadrat photo studio was transformed for one day into the lair of an ancient warrior and his two callous companions. As a final product of the collaboration of the seven-member team, five different photo subjects were created, as well as a behind-the-scenes insight into the digital post-production of the raw photographs, including matching sound design.
For the shoot, a set was built that could resemble a night camp in the wilderness: with tree stumps and wooden beams as well as animal skins and axes, an authentic environment is created. Artificial lighting fixtures are used to set accents that are transformed into torches in post-production – the ground fog blurs contours and creates depth in the image.
During concept development with model and actor Edis König, the desire arose to work directly on set with animals to add a layer to the authentic experience with costume, makeup and equipment. Animal trainer David Buchnerwas on hand for this with his two wolfhounds Wotan and Tali, who animated the animals to move and pose during the shoot.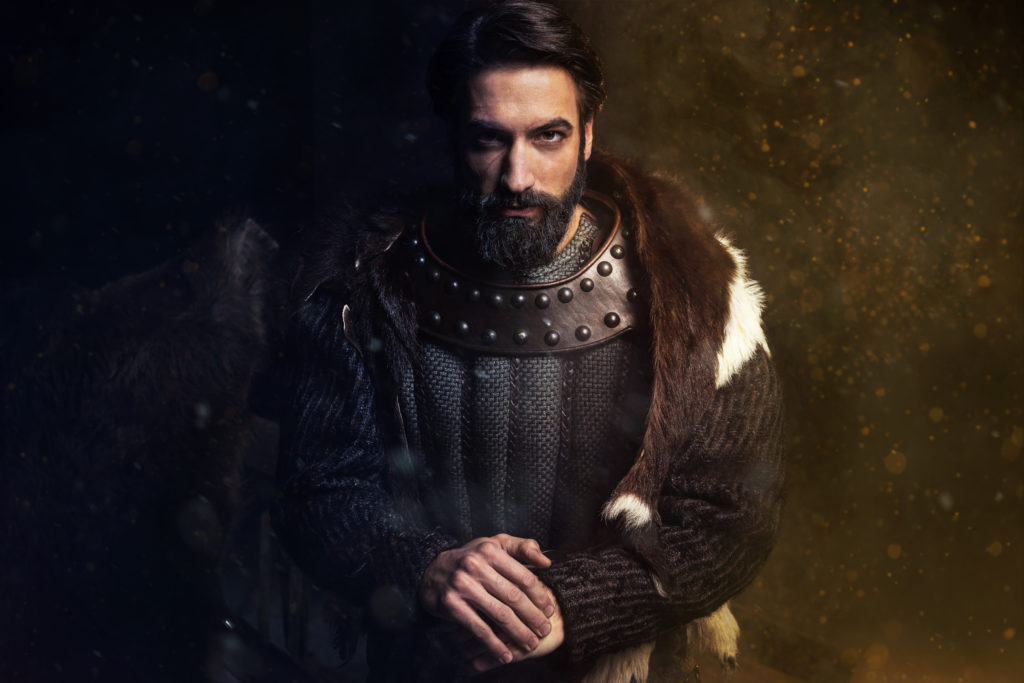 Photography & Compositing
In post-production, a compositing was created from each of the selected images. For this purpose, a rough sketch as well as mood boards were made at the beginning in order to roughly depict different variants of the staging. The final composings consist of numerous layers of textures and parts that have been integrated into the original image and given a final unified look.
Team
Concept, Photography & Postproduction –Philipp Schulz
Productionsassistent – Lauren Klocker
Model – Edis König
Wolfs & Trainer – Wotan, Tali & David Buchner
Makeup – Linda Beckmann
Sounddesign – Felix Kirsch